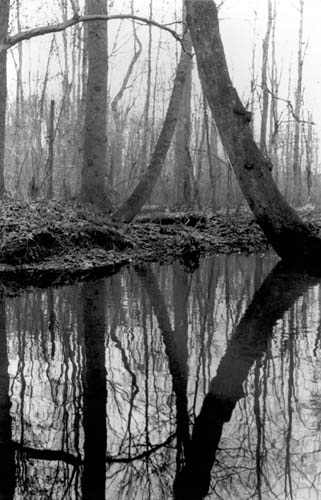 INDRA'S LOOKING GLASS NET WITH DOUBLE HELIX
The first of the inverted photos and also the first site re-visited in hopes of getting another shot. But it had vanished even though the mouth-like pattern of leaves should have been a dead give-away. The leaves, however, had disappeared and even the "mouth" had somehow closed up. It may recently have reappeared, but, if so, it's now much less compelling. Could this really have been the same place or was it just another level of illusion?
Like many of these photographs, it was a revelation when it came out of the "fixing" tray. Nothing had been pre- or post-visualized - Just an interesting pattern of light and lines, a click, and then temporary amnesia. Certainly no forethought of left- and right-handed versions of the same photo combining to create a more complex image, like a simple nucleic acid ramifying into a Double Helix DNA strand. A first lesson in the happy accidents that result from being topsy-turvy.